Tech advancements, commendable innovations, and dynamic trends have become the buzzwords amid the present-day market scenario. The increasing number of people using smart devices marks the accelerating demand for mobile apps. To evolve through these transformations, several companies are getting involved in app development.
To put the company's plans into action and develop a software application, it needs a development team. This makes firms jumbled over an in-house team vs. offshore mobile app development team.
The key contributing element to this decision includes high talent acquiring costs to get creative mindsets that can outline subtle strategies. The app development team must include leading-edge talent who can formulate decisive plans and accomplish work effectively.
Here's a briefing on the in-house team and offshore mobile app development team – all that you need to know before choosing over one.
In-house Team vs. Offshore Mobile App Development Team: Pros and Cons
IN-HOUSE APP DEVELOPMENT TEAM 
In-house app development team, also known as insourcing refers to getting application/software developed by the human resources you have on your hand at the company. From design to development, all the tasks are performed by the developers hired by you.
The in-house team is selected based on your niche, company operations, and goals. They're recruited to perform a determined set of tasks. The hand-picked team consists of developers, designers, a team leader, and content specialists. The project is initiated, coordinated, performed, and wrapped up in-house, amid the infrastructure, resources, and other elements provided by you.
To build an in-house team, the steps carried out are hiring, onboarding, training, managing, and adapting. They are beneficiaries of corporate perks such as insurance, paid holidays, meal plans, and more, depending on the company policy.
Pros of In-house Team
The in-house development teams bring in a set of benefits. Know how it could prove to be advantageous for your app development process.
Shared goals
Varied viewpoints and shared goals always prove to be valuable facets for companies. The internal team solely works for goals and objectives set by your company. Its priorities and targets are the same as those of yours. As you already know your team and their abilities, the job is handed considering their skills and potential. This helps you get ensured results and higher productivity as tasks are assigned as per their capabilities.
Flexibility
Flexibility addresses rapid decision-making and tasks accomplishments. When you're having an in-house team, there are no time-zone limitations and you can schedule meetings anytime. It makes team coordination much sorted as everyone is easily accessible. There's no need to alter the work schedules and can hit upon the required changes at ease.
Cultural contribution
One of the most resonant benefits of choosing an in-house team is they fit the company culture rightly. Your team will already be aligned with the company's cultural values. Programmers who're working with you for a long better understand the values your company holds. This makes it easy for you to resolve issues, address concerns, figure out stumbling blocks in a timely manner.
Effective communication
Every team member has to constantly stay connected with each other. While developing an application, employees need to discuss hurdles, get viewpoints, ask for expert opinions, delegate work, and more to solve every issue that comes their way.
In-house team leads to transparent and open communication that leaves no room for miscommunication. Working at the same place includes direct, instant interaction that further avoids the wastage of time involved in connecting via mediums.
 Confidentiality 
Whatever happens in the company, stays in the company. The top concern every company has is about utmost security of their insider information. With an in-house team in place, there is minimized risk of information leakage or exposure. The background checks and identity verification process done before hiring the individuals ensures you've legitimate human resources.
Cons of In-house Team
No matter how wide the horizon of in-house app development teams is, it marks a share of disadvantages as well.
High costs
This is the vital reason why most companies are turning towards offshore teams. An in-house team costs around 5x more as compared to the outsourced resources. Additionally, they also have to bear rental costs, operational costs, taxes, software installation charges, and more.
Frequent project disruptions
Think of the situations – Your team might not have enough knowledge about the app you're developing. One of your employees has to leave the company in between of the running project due to some reasons. You're required to upskill or reskill your talent to make them work on a particular task. Such reasons often disrupt the working and force a project to halt.
OFFSHORE MOBILE APP DEVELOPMENT TEAM
Offshore team, also known as outsourcing refers to hiring an already established team for the app development at an agreed fee. The company gets a pool of talent options to choose from. The outsourcing model involves the delegation of duties to a third party.
Organizations that don't have enough resources or need highly advanced solutions find offshore teams much suitable.
Pros of Offshore Team
Companies opting for offshore teams are on the rise and for plenty of requisite reasons. Here are the advantages of choosing this process.
Reduced costs
Cost-effectiveness makes the most vital feature why companies opt for offshore teams. There is a drastic cost cut-off in terms of hiring, maintaining, training, and reskilling the employees. You don't need to offer freelancers premium infrastructure or software services. Further, by having offshore teams, you avoid paying the operating expenses such as costs of office supplies, rent, travel, marketing, and more. 
Versatility
When you're up to selecting an outsourced team, the resources will surely have abundant knowledge in their fields. You'll get the advantages of a specialist and their expertise for every task you need to be get done. This also enables you to make your app scalable without any extra costs.
Innovative ideas
The offshore team will have a good deal of ingenious ideas that will help you break new ground effectively. They work with a handful of clients and reckons up new skills, insights, and a cogent scoop of ideas. They keep keen attention to market scenarios and changing trends, hence altering the working process accordingly. They understand the value of remaining competitive in the industry and there's no room for blunders in their work.
Access to a wide talent pool
Whether you need a designer, developer, or an entire team, offshore increases the scope of finding suitable talent. When you're dealing with the in-house team, you can't find employees proficient in specific fields. There could be several constraints such as geographical area or budget, limiting your hiring decisions.
But this is not the case when you're seeking for outsourcing a team. You can choose experts across the globe at much-reduced costs. You can find the workers that best fit your development needs. Choosing a well-experienced and knowledgeable team will ultimately lead to greater revenues in long run.
Resourceful and time-saving
Having an offshore team means you eliminate hiring and training tasks. This saves a lot of time and helps you work effectively. Such a team can help adapt to the trends faster, stay competitive, and launch your app early in the market. You can invest this time and effort in promotional activities to make your app more successful.
Cons of Offshore Team
With the top-notch benefits, an offshore team comes with a few drawbacks as well. They are:
Less security
This means of app development involves greater risks of sensitive information leaks. As you're dealing with the little-known team, you'll have to share all the company details required by them. You'll need to share management policies, procedures, and practices to enable them to work for your app. This poses security risks that could cost you severe financial as well as reputational damage. To mitigate such risks, companies are advised to sign NDA prior to the contract being finalized.
Poor communication
The team is far-off from the organization and you often connect via networking mediums. Despite daily meetings and regular updates, there is a dire possibility of miscommunication. Different time zones or language barriers can overpower the few meetings you held with each other and result in poor coordination. The breakdown in communication is a concern for many, that is justified too. It requires true-blue efforts to make outsourcing projects successful and gain optimal services despite varied differences.
In-house Team vs. Offshore Mobile App Development Team: The Final Verdict
No matter how much acceptance the gig economy has gained, the benefits of in-house teams still ensure a loyal, enlarged customer base. Your decision regarding selecting an app development team depends on a multitude of factors including the risk involved, time to market, budget and more. It also depends on the size as well as the capital of your company. 
If you're a startup, it's always a better idea to deploy an offshore team and save plentiful of costs. Further, if you lack the specialists, experienced personnel, or fasten time-to-market, you should go for an offshore development team. However, if you're a well-established firm dealing in lead-footed operations, you must invest in an in-house team.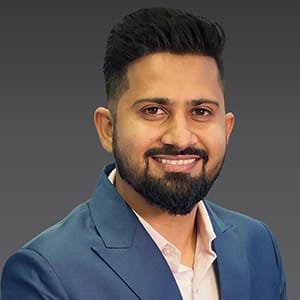 Mayur is the CTO of Excellent WebWorld ( Web & Mobile App Development Company). He is updated with all the latest trends in the mobile app technology field. He writes blogs that are helpful for businesses to implement technology in their operations. You will find him swimming whenever he is free.